2nd Smart Cities India 2016 expo attracts 325 exhibitors from 40 countries
New Delhi, 11th May 2016: Cities are under constant stress owing to the rapid rate at which they are growing and changing, whereas technological advancements and solutions in energy, mobility and transport, infrastructure and resource efficiency can help to transform these cities into resilient urban habitats. The Prime Minister's mission for Smart Cities is poised to enhance the quality of urban life and there is a wide spread support from countries and international organizations to explore investment and collaborative opportunities in this sector.

The 2nd edition of Smart Cities India 2016 opened today at Pragati Maidan, New Delhi. The international knowledge platform for smart cities was inaugurated by Shri Suresh Prabhakar Prabhu, Cabinet Minister, Government of India, Ministry of Railways and Shri Piyush Goyal, Minister of State, Government of India, Independent charge for Power, Coal, New & Renewable energy.

Shri Suresh Prabhakar Prabhu, Cabinet Minister, Government of India, Ministry of Railways stated: "Transport plays the role of lifeline in a smart city and hence soon India will see new railway stations made with impeccable design and friendly human interface. Special attention needs to be paid to management of natural resources so that the ecological balance is not tampered."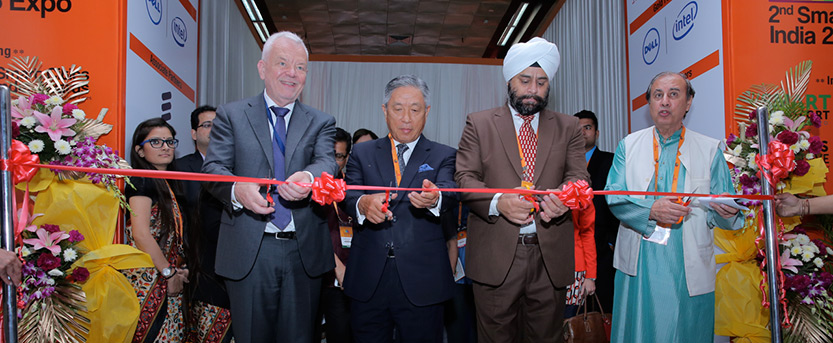 Guest of Honour at the event, Shri Piyush Goyal, Minister of State, Government of India, Independent charge for Power, Coal, New & Renewable energy, said: "India sure has challenges, but in those challenges lies the unparalleled opportunities. A land that has enormous amount of manpower, and youth seeking better lifestyle provides the urging need of smart cities. Smarter solutions need to be scalable, affordable and fast in their implementation so that the country drives benefit from them"

Two keynote address at the inaugural ceremony were delivered by H.E. Mr. Harald Sandberg (Ambassador to India, Embassy of Sweden) and H.E. Mr. Chung-Kwang Tien (Ambassador to India, Embassy of Taiwan).

Speaking at the forum, H.E. Mr. Harald Sandberg, Ambassador to India, Embassy of Sweden, said: "The prominent agenda is sustainable urban development. Sweden has tried to build sustainable solutions utilizing waste as a resource to boost energy as a hallmark of what technology has achieved in Sweden."

H.E. Mr. Chung-Kwang Tien, Ambassador to India, Embassy of Taiwan, remarked: "India has already come to threshold to move into the next era in which Taiwan would love to participate in future. Taiwan is now a totally changed country where the traffic lights also changed to the LED lights. India is emerging in a way that in future it could lead the world."

Later in the morning, the conference inaugural session was moderated by Dr. Arunabha Ghosh CEO, Council of Energy Environment & Water, India). The organizers arranged an interesting panel for this session to deliberate on Smart Cities in India: Policy and regulatory environment.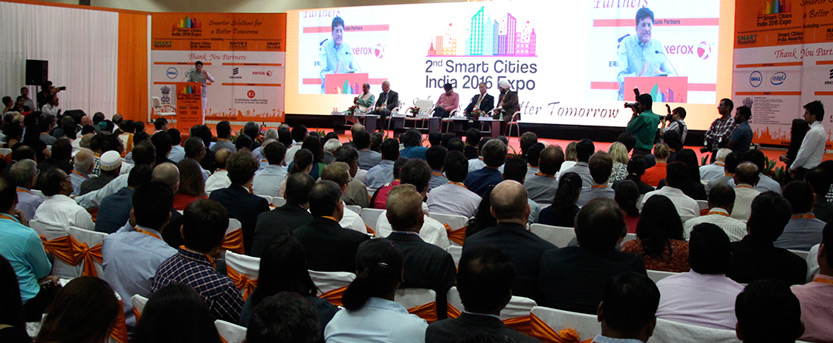 Present during the inaugural ceremony, Meenakshi Lekhi, Member of Parliament, Lok Sabha, India, shared: "On the regulatory front, there are many complex issues that needs to be resolved and as a whole, bureaucracy in India needs to be trained and digitization should be incorporated to monitor accountability of the implementation of processes."

Dr. Ajay Mathur, Director General, TERI, India, explained : "Every City has its own varied essential needs. Degree of efficiency will make every city a smart city. Two key challenges faced in regulating and policy aspect of building smart cities are: Firstly, limited life span of any planning and performance based selection of those plans. Secondly, how we measure performance and hold people responsible for it. It is important to have matrix of goal achievements, holding processes and people in place, transperancy of the entire mechanism and feedback for a better future."

On participation and association with Smart Cities India 2016 expo, a leading exhibitor from, Ericsson, Paolo Colella, Head of Region India, said: "India and other cities across the globe are experiencing a manifold increase in population moving to towns and cities. The Government of India's huge focus on smart cities & digital India presents an enormous opportunity for us to contribute to the country's transformation .With our leadership in ICT and rich global experience, we can enable Indian cities to transform themselves into sustainable and smart cities."

Post lunch the organizers arranged parallel conference sessions. A key panelists, Mr. Sandip Ranjhan, Senior Vice President & General Manager - Mobile & Communications Services, HARMAN , India, at the session of Best practices in procurement of ICT Services from a Smart City standpoint shared: "The Prime Minister's 100 Smart Cities mission is the key initiative to drive social change and economic growth by leveraging Internet-of-Things (IoT) technology. As a Global leader in IoT solutions with strong India focus, Harman is excited to be a key partner in helping to make Smart Cities in India a reality."

Prem Behl, Chairman, Exhibitions India Pvt Ltd, said: "I am pleased at the good turn out from dignitaries and attendees. In the first day of the expo ministries, Shri Suresh Prabhakar Prabhu, Cabinet Minister, Government of India, Ministry of Railways and Shri Piyush Goyal, Minister of State, Government of India, Independent charge for Power, Coal, New & Renewable energy,  inaugurated the expo. Ambassadors and diplomats from 20 countries were present including H.E. Mr. Harald Sandberg (Ambassador to India, Embassy of Sweden) and H.E. Mr. Chung-Kwang Tien (Ambassador to India, Embassy of Taiwan). The exhibition has attracted a large number of trade visitors to the four international pavilions from Holland, Poland, Sweden and Taiwan."

Highlights of the Expo:
•
325 companies from 40 countries
•
46 conference sessions with 300 speakers
•
Focus areas: Clean energy; disaster management; education and skills to build smart cities; e-Governance; green buildings; IT & communications; safety & security; smart environment; smart grid; smart health; smart manufacturing; make in India; smart transport; urban planning; waste and water management; etc.
•
Co-hosted events

•

Smart Transport 2016 expo

•

Smart Cities India Awards

•

Mayor's Conclave

•

Smart Village Conclave
About Smart Cities India 2016 expo:
The 2nd edition of Smart Cities India 2016 expo brought together experts and leaders from 40 countries under one platform to identify the measures to lay the foundation for smart cities. The three-day expo comprises an exhibition, with national and international companies showcasing the latest trends and technologies.

Smart Transport India 2016 expo is the concurrent event taking place at 2nd Smart Cities India expo. To develop sustainable mobility for the masses, the expo focused on better ways and technology for convenient and eco-friendly transportation system.

325 exhibiting participants from across the globe showcased their products, services and technologies to buyers, industry representatives, center, state and local body officials with industry representatives, town and city planners, architects, realtors, academia, students and media, etc. The exhibiting companies included Dell International, Xerox, Ericsson, 3M India, Berger Paints, Godrej Security, Grundfos Pumps, Millenium Semiconductor, Tata Projects, Volvo, Yamaha, etc.

Smart Cities India 2016 expo hosted country pavilions from Holland, Poland, Sweden, and Taiwan.

Multi-sectoral conference sessions were hosted to stimulate insights on smart solutions for citizen friendly and economically viable cities in India.

The first day of the expo witnessed high-powered conference sessions including Best practices in procurement of ICT Services from a Smart City standpoint; Case studies for financing smart cities; Financing models for smart cities; Green buildings for smart cities; Safe, secure and resilient cities; Smart cities: Preparing for disasters; and The role of architecture in smart cities; etc.

Business leaders from across the globe included Mr. Gordon Falconer (Director Smart Cities at Schneider Electric, Singapore); Mr. Tikender Singh Panwar (Deputy Mayor, Shimla Municipal Corporation, India); Dr. Michael Ho (Project Consultant, India Taiwan Smart Cities, Taiwan); Shri Abhishek Goyal, IPS (Deputy Commissioner of Police, HQ, Bangalore, India); Mr. Amit Kumar (Vice President, GRIHA Council, India); Shri OP Mishra, IPS (Deputy Commissioner of Police, Delhi, India); Mr. Aurgho Jyoti (Architect, Harvard University, USA); Prof. Chetan Vaidya (Director, School of Planning and Architecture, India); Mr. Pratik Chaturvedi (Scientist D, Defence Terrain Research Laboratory, DRDO, India), Mr. Y K Jain (Senior Associate (NSEFI) & Smart Consulting – Smart City & Renewables (Antriksh Photonergy)),etc.

The expo is supported by 10 central government ministries. Support from some of the leading associations including NASSCOM; The Energy and Resource Institute (TERI); The Indus Entrepreneurs (TiE); Indo-American Chamber of Commerce (IACC); Asia Society for Social Improvement and Sustainable Transformation (ASSIST); Battery Rickshaw Welfare Association (BRWA); COAI; etc.

Please visit: http://www.smartcitiesindia.com/ for more information.

About Exhibitions India Group:
Exhibitions India Group is a multi-services trade promotion company with 130 employees located in New Delhi, Ahmedabad, Bangalore, Chennai, Hyderabad and Mumbai. Overseas offices are in Dubai, Germany, Japan, Kenya and the U.S.A.
The company is certified by Trace International Inc. (USA) for transparency in international commercial transactions. EIG is a member of UFI - The Global Association of Exhibitions Industry and Indo-German Chambers of Commerce. We are amongst a few trade promotion organisations with ISO 9001:2008, ISO 14001:2004 and OHSAS 18001:2007 certification.

Please visit: http://www.exhibitionsindiagroup.com for more information.
For more information, please contact:
Megha Puri
Manager, Corporate Communications
Mob: +91-9811819529
Email: meghap@eigroup.in
Kavita Yadav


Sr. Executive, Corporate Communications


Mob: +91-98738 84498
Email: kavitay@eigroup.in